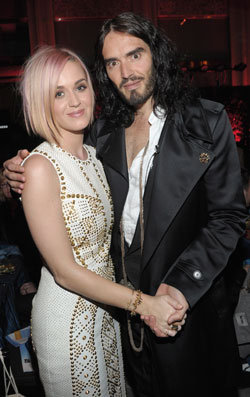 Russell Brand has filed to divorce Katy Perry
in LA today citing irreconcilable differences. He confirmed the news in a statement saying, "Sadly, Katy and I are ending our marriage. I'll always adore her and I know we'll remain friends."
Katy was spotted without her wedding ring
while vacationing in Hawaii on Christmas with friends. Meanwhile, Russell was also seen without his
wedding
band over the holidays in the UK.
Katy resumes touring Jan. 19 in Jakarta and from there she moves on to Manila before returning to the US for the Feb. 12 Grammy Awards. Katy incorporated video from her top secret Indian wedding to Brand during last year's Grammy performance while belting out a medley of her hits. She's once again nominated and will face off against Adele, Bon Iver, Bruno Mars and Mumford & Sons, for record of the year.